Athletic Offerings
Fall
Volleyball: Grades 5-8
Futsal: Grades 5-8
Sailing: Grades 5-8
Winter
Basketball: Grades 1-8
Spring
Tennis: Grades 4-8
Golf: Grades 6-8
Running Club: Grades 3-8
CDS partners with area leagues including Trident, St. Joseph's and City of Charleston.
Basketball
More than 78% of CDS students in grades 1-8 play basketball, and we often field more than one team per grade. First and second graders play in our intramural Lil' Scorps program, with games/clinics held on Saturday mornings beginning in mid-November and ending in mid-February at CDS. Third and fourth graders play in the St. Joseph's Basketball League, with all games being played at St. Joseph's (1695 Raoul Wallenberg Blvd. in West Ashley). Fifth-eighth grade teams play in the Trident League and travel to many different schools for their games.
Golf
Golf is a spring sport for 6th-8th grade boys and girls. Students practice at Patriot's Point (1 Patriot's Point Road) in Mt. Pleasant. The matches are at local golf courses.
Sailing
The CDS Sailing Club is open to experienced sailors in grades 5-8.  Sailing takes place at the Charleston City Marina.
Tennis
Tennis is offered to 4th-8th grade boys and girls. We play through the City of Charleston and practice at the Charleston Tennis Center in West Ashley. The staff will evaluate the players, who then will be placed on the appropriate team according to skill level. Matches are played at area tennis centers in Mt. Pleasant, downtown and West Ashley.
Volleyball
Charleston Day School's Volleyball program is offered to girls from grades 5 – 8, with one team per grade level.
Learning basic skills such as serving, setting and spiking, girls in the early grades focus on the rules of the game. As they progress, more advanced passing and defensive plays become the area of focus. Competition with students in other local schools finely hones the skills for all teams.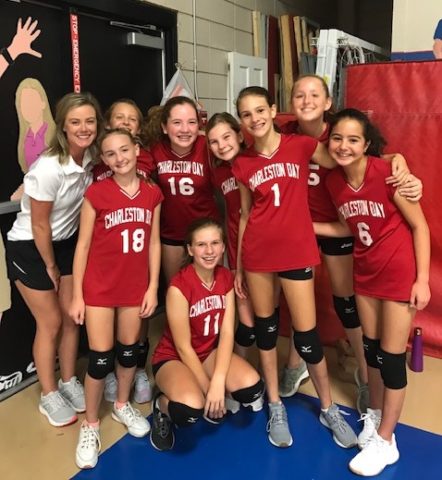 Opponents
Please click the name below to get directions via MapQuest.