Shared Experiences
Attending a school with an 85-year history means you enjoy the benefits of a community rich with traditions. These shared experiences, passed from generation to generation, bind our community together and provide a common ground for graduates long after they leave our gates.
Red and Blue Teams
Upon admittance, each student is assigned to either the Red or Blue Team. Careful attention ensures that all family members — even generations back — share the same color. Throughout the year students compete to earn points for their team by earning the honor roll, participating in games during assembly, etc. The competition culminates in Field Day in the spring, where the entire school competes in teams all day long to earn points for their team. Students become so loyal to their respective team that alumni, upon returning to campus, will often let out a cheer to their team.
Whether you were red or blue was a BIG DEAL at CDS! My friends and I still remember exactly who was on what team.
— Anne Blessing, alumna, current parent and former faculty member.
Weekly Assemblies
The entire student body gathers every Monday morning for assembly. This shared time is an opportunity to highlight student achievements — whether academic, athletic or citizenship — and share campus news.
I love having a weekly time for the entire school body to get together and share events that involve the youngest and the oldest. It also is a time where I can see former students and learn about their current successes.
— Caitlin Tobin, fourth grade teacher and current parent of two CDS students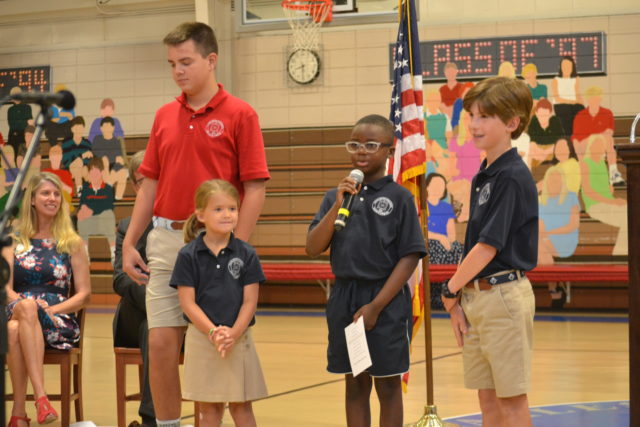 Bigs and Littles
Our Bigs & Littles program is often mentioned by our graduating eighth graders as one of their favorite CDS memories. Each new student is given a fifth grade buddy, and the pair stays together throughout the next four years. Bigs and Littles meet about once a month to read to each other, create a holiday craft or simply play games outside.
More Traditions
Birthday Books
Each year during their birthday month, Charleston Day students receive a book donated to the Library in their honor. It's presented to them during assembly so that they can read it first. ... Show Me More